触媒2
生体系に存在しない遷移金属錯体に対して作製された世界で初めての抗体 (2006)
抗体の厳密な分子認識能を利用した立体選択的水素化触媒 (2006)
Asymmetric Hydrogenation Catalyst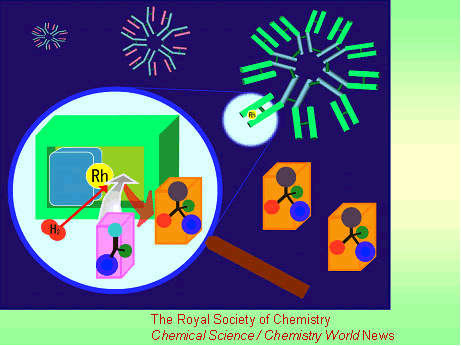 A highly selective catalyst that works like an artificial enzyme has been made using the molecule-targeting system that nature uses to combat infection.
The catalyst, an antibody-rhodium complex, was made by Akira Harada and colleagues at Osaka University, Japan. Harada says his new catalyst successfully combines the reactivity of rhodium with enzyme-like levels of selectivity. Although metals like rhodium, platinum and palladium form some of the most highly active catalysts used by chemists, enzymes with these metals in their active site are not found in nature. Artificial enzymes based on these metals could revolutionise catalysis, said Harada.
The researchers made the catalyst by treating immune system cells with a simple rhodium compound. This process triggers the cells to produce proteins called antibodies, which grab the compound as if it were an invading virus or bacteria. The antibody encloses the rhodium to form an asymmetric environment like an enzyme active site, which controls how substrates approach the metal to give the catalyst its selectivity.
Harada used the antibody-rhodium complex to try to reduce a carbon-carbon double bond in a series of amino acids precursors. The complex proved to be highly selective - only one of the precursors reacted, and only one of two possible enantiomers (mirror-images) of the amino acid product was formed.
The work was welcomed by Neil Thomas, an expert in catalytic antibodies at the University of Nottingham, UK. 'Harada's work provides one of the best examples of combining an organometallic catalyst with a bespoke protein cavity to create an asymmetric catalyst,' he said.
The next challenge is to design a binding site for substrates for which it is difficult to obtain enantiopure products using traditional chiral transition metal catalysts, said Harada.
Reported by Prof. Dr. James Mitchell Crow, in Chemical Science (Royal Society of Chemistry)